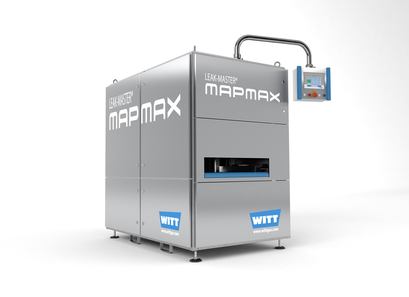 Automatic inline micro-leak detection system for packages based on CO2. LEAK-MASTER® MAPMAX enables the non-destructive detection of the smallest leaks, without the costly use of helium as a trace gas - directly after the packaging process.
100% testing, 100% safety.

Non-destructive detection of even the smallest of leaks.

Highly sensitive and ultra-fast CO2 sensor.

Up to 15 cycles per minute.

Directly after the packaging process.

Standardized control processes and documentation.

Short response time.

High operating speed (max. 15 cycles/min).

For flexible and rigid packaging.

No calibration required.

Easy to use no special skills required.
For further information please find here under LEAK-MASTER® MAPMAX data sheet: